Thanks for all your patience with my not updating as fast as I should be. I have an 8 month old - and she has a double ear infection and well all you Mom's you know the drill!
ONWARD!
This is an interesting article!
THANK YOU SUSAN!!

It is called:
Vampire vs. the wolfman: Is 'Twilight' star Robert Pattinson jealous of 'New Moon' Tayor Lautner's buzz?

Anyone already giggling?
And the article says:
Could there be something of a feud brewing between Robert Pattinson and Taylor Lautner, co-stars of the much-anticipated "Twilight" sequel "New Moon"?
Official spokesfolks for the stars and the film say there's nothing to this, but a key production staffer at the "New Moon" set in Vancouver tells me Pattinson is getting ''a little jealous'' of all the attention his fellow screen bloodsucker Lautner is getting lately.


Does ANYONE really believe this? Rob is being hounded 24/7, no matter where he goes or what he does. If he sneezed there are 50 paparazzi there with a camera (and no tissue). So if Taylor is getting some attention - then I'm sure Rob will be THRILLED to get some of the heat off him. Taylor deserves some attention, he's the lead male role in New Moon. And buffed himself out for it - working his tail off!
Ironically, Pattinson has made it clear — to just about anyone he talks to — how much he hates being the target of all that tabloid fascination with his love life and virtually every other aspect of his daily existence.
Yet my source says Pattinson strikes her as being an example of something she calls "a damned if you do, damned if you don't" scenario.
''While Rob despises all the paparazzi and crazy magazine stories, he still has the usual actor's big ego thing going on. He wants his privacy, but he also loves having arrived on the A-list and knows that being in the public eye is part of that.
''If he really wanted to avoid the press, you wouldn't see him hitting all the hot nightclubs and restaurants in Hollywood or Vancouver. ... He knows that's where the paparazzi hang out, that's for sure.''

This is just annoying. So because the press won't give him a freakin' break, he is supposed to sit in hotel room (which what it seems he does most of the time now, anyway) and go nowhere - have zero fun. God forbid he goes to a "hot nightclub" I mean he's 23 years old, why would he want to do that???

The source

also adds that Lautner is a ''total sweetheart, who gets a kick out of all the attention. He loves his fans, he loves this successful rollercoaster he's on and he's very fond of Rob, as a colleague and friend.
''He just thinks it's funny that Rob wants all the fame stuff for him and ['Twilight' and 'New Moon' co-star] Kristen [Stewart],'' who the source also says is definitely in a romantic — as well as professional — relationship with Pattinson.

I'm sure Taylor said that. Please... and once again we have the "source" giving us the secret squirrel information. From now on this is the source :
What do you think? hehe spooky enough? or do we need spookier?
Maybe this is 'the source':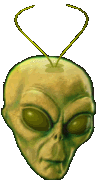 Here is your jab Susan :)