I am sorry (
once again
) that I am not updating more regularly. Crazy busy! I'm getting regular calls from the casting agency I work with doing auditions for a bunch of different kinds of things! So I'm very excited!
Back to bizness!
Ok so has everyone read the 1,254,833 headlines regarding - "
Kristen and Rob admit they are dating on OPRAH!
"
Many, many different headlines saying the same thing. First of all, I will believe it when I SEE AND HEAR it with thine own eyes & ears!
Secondly.. these are the quotes of the proof!
"Winfrey told the two she wouldn't press too hard on the dating question during the interview as long as "they told her [off camera] what was really going on," a source said."

"The talk show queen managed to wring the ultimate confession out of the secretive pair when they taped an episode of "The Oprah Winfrey Show," reports E! Online - namely, that they are, in fact, a couple.

Unfortunately, the cameras weren't rolling at the time. But a source who works for Oprah told E!'s Ted Casablancas that RPattz and KStew came to an agreement with Winfrey: She wouldn't press them on their romantic status during the show - if they told her the truth ahead of time."
Ahh so I see.. they admitted it
OFF CAMERA
..

What do I say? How do I make sense out of nonsense... If this is true and they admitted it, OFF camera.. then give me a ba-reak!
So once more it's :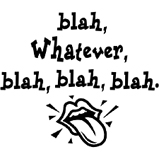 Just thought I'd point out another bit of trickery with a headline like this:
Robert Pattinson's dating Kristen Stewart or Uma Thurman?

Yet a blurb from the article says :
Amidst the rumours gripping, the Robert Pattinson- Kristen Stewart affair, a new one is craving for attention. The source of this one lies in the photos of him and Uma Thurman released in which they are too close for Stewart's comfort. She is sure to be unhappy when she catches a glimpse of their chemistry.

But then again she needn't take this to heart as the photos are from their upcoming film Bel Ami.


Tsk tsk tsk....
OFF TOPIC - I NEED SOME HELP PROMOTING THIS SITE?
anyone interested??