Hope everyone had a good holiday yesterday. I know that I shall never eat again, too full.
Anyway - lots of silly headlines to make fun of!
Here is 3 that I found (actually there was many along the same lines, I just used these 3)
Robert Pattinson and Kristen Stewart want extremely sexually charged nudity in Breaking Dawn?


Do Robert Pattinson And Kristen Stewart Want More 'Breaking Dawn' Sex Scenes?
Robert Pattinson And Kristen Stewart Want More Sex Scenes

Go ahead, giggle.. Yup that's what it says, as stupid as it reads.. you have permission to LOL. My first reaction was .. well I laughed .. then I had to read to see what kind of rationalization these articles had made to justify a headline like that.
Some blurbs:
Robert Pattinson and Kristen Stewart want to steam up the screen in Breaking Dawn, or at least that's what a number of reports are suggesting. Insiders have been reporting that Pattinson and Stewart have been pushing for "tasteful but extremely sexually charged nudity." But exactly how true are the rumors?

(Me: How true are the rumors? Come the eff on.. doesn't take a genius to figure out that the likelihood they said that is about zilch)
Sources at the studio have commented saying that the film will not have an R rating as previously rumored by OK magazine. "We will be aiming for a PG-13 rating," the studio source confirmed.

(Me: of course they have to do PG-13, that's their target audience! If they were to do R, they would be shooting themselves in the foot)
or this one:
Robert Pattinson and Kristen Stewart want extremely sexually charged nudity in Breaking Dawn?


According to Hollywoodlife, Robert Pattinson and Kristen Stewart are pushing for "tasteful but extremely sexually charged nudity" in Breaking Dawn!

"They're demanding that their big sex scenes will really push the envelope," a source tells OK magazine.

(Me: Ahh the infamous 'source' - if anyone has read the books, then they know that the sex scenes are implied, I highly HIGHLY doubt Kristen and Rob would like to make this into soft core porn.)
Producers may have to censor some of the stars' suggestions.

(Me: Yeah ok - I just want to poke someone in the eye.)
The other article was so offensive I'm not going to copy a blurb from it - it was just so stupid.
NEXT
Jennifer Aniston wants to seduce Robert Pattinson!


Blurb:
But fret not, ladies - and rumoured girlfriend Kristen Stewart - it's all in the name of art.

Reports have claimed that Jennifer Aniston is keen to work on the remake of The Graduate, and wants Twilight star Rob to star opposite her.


(Me: Ok, if and that's a big IF this is true and Jennifer Aniston wants to remake The Graduate (great movie) why do they spin it as if she is this predator that wants to devour Rob? Couldn't it be that she wants to remake the movie.. period? Using Rob is brilliant because it would be capitalizing on his fame right now. He's red hot. That won't last forever. But no, they make it sound like she's this seductress on the war path. bleck.
And this is just icky.


Headline:
Coldplay: Glastonbury Invite Like Touching Robert Pattinson Balls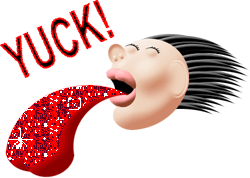 Blurb:
Coldplay have compared being asked to play Glastonbury to Twilight actor Robert Pattinson inviting you to touch his balls.

The band, who last topped the bill at the festival in 2005, are one of a number of acts rumoured to be headlining the event in Somerset next June.

But in an interview with Q magazine, singer Chris Martin played down the reports and said it "depends if we get asked".

He added: "That's like getting asked to dance by Robert Pattinson if you're a young girl. Imagine if Robert Pattinson called and asked, 'Do you want to touch my balls?'."

Getting asked to dance.. Ok, cute..fine analogy. Yet, then the quote jumps to touching his balls? Ew. I'm not sure that's first and foremost on young teens minds, dude. Girls think in terms of romance.. so if you want to compare it you would say winning a date with Rob, or getting a chance to hang out with him .. but grabbing his balls??? Not what comes first to a girl (or woman's) mind. Once again, ew.