Ah yes the ever bank-able star. Which I'm sure the stars are grateful for. Why you ask? Because then the get offered projects that are really really juicy and meaty. That's what it would mean for me. From my perspective as a struggling older actress, and by older I mean not in my 20's anymore - I would love to get to that point. I don't want the fame that goes along with it - but wow, what I wouldn't give to get some projects under my belt that would give me the opportunity to do some really good material.
I keep hoping. Maybe someday I'll reveal to you all who I am (not that it would make a big deal unless of course I turned out to be Rob himself, which I assure you - I am not.).
But here are some of the headlines:
Kristen Stewart, Robert Pattinson are sure things at box office
Kristen Stewart, Robert Pattinson Make Bank On Forbes List
Kristen Stewart and Robert Pattinson top Forbes' most bankable list
As you know, I don't know either of them personally.
But, ironically Kristen and I share a common bond to Australia. Her mom is Australian and my husband is from Australia. Being around an Aussie (pronounced AuZZie folks) is a most calming thing. From what I've learned being married to an Aussie for 11 years is that they are very laid back. Take things in stride and that could be how Kristen got her laid back attitude. Which is why I don't think she would give a rats ass about how "
bankable
" she is. As long as she gets to do projects that she connects with and mean something to her. As an actor that is finding gold! Right now, I do indie films - any chance I get. They are some of the best written and creative things ever done because they don't have to worry about the box office battle.
So it's wonderful that they are bankable because then they get to see and do things that they might not have gotten the opportunity to do otherwise.
And when I'm in a movie with either of them, I'll ask they what they think.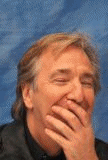 ...or not. ;)
NEXT
Headline:
Robert Pattinson's Night Out With Sarah Roemer: 'No Hanky Panky'
Shocker.
(hanky panky - stupid phrase)
Blurb:
"Rob Pattinson and his friends were having a business meeting," and the blonde woman was actress Sarah Roemer. "[Rob] sat next to one of the men and the other man and young lady sat across from them." He can't even hold a business meeting without being confronted with rumors!
Whether or not it was a business meeting, who knows. But at least this is more realistic than the other articles. I mean if he wanted to go on a date, I think he could find ways of doing it without being photographed and followed. Gut tells me that he's not going to cheat on Kristen or anyone else so overtly.
So basically... I TOLD YOU SO.